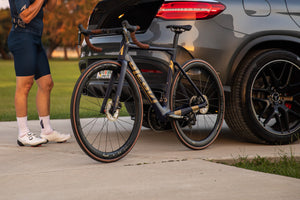 YOUR ALCAVI, YOUR RULES
Take your Alcavi to your favorite road to experience how it feels. We want to help you push boundaries. To get you beyond. To get you THERE. If after the trial period, the bike is not a fit for you we will offer a refund* and return shipping labels*
*Restrictions apply
ALCAVI at home with you
Be confident to try Alcavi worry free in the comfort of your home and your roads. After the trial period if you did not fall in love with your bicycle or something is not working exactly how you wanted, let us know and we will immediately address the issue. 
We understand that sometimes things don't go as planned.
When you buy our bicycle, you become part of ALCAVI. Our mission is to exceed your expectations. We want you to be completely satisfied, trust us in the process, and have a stress-free experience. That is why we offer a 45-day trial*
Limited Warranty
Before any bicycle goes out from our facility, they go through strict quality control protocols to ensure you are completely satisfied with your bicycle. However, if any issues may appear with any Alcavi frame, fork, and handlebar we offer a 4-year limited warranty to the original owner.
Important to know
Register your bike filling up the Warranty registration form within 30 days of purchase
Up to 4 year limited warranty from the date of purchase
Valid only to the original owner who bought the bicycle from our website or an authorized partner complying with our Terms and Conditions
Only on Alcavi Manufactured parts
How does it work?
If a problem arises within 2 year of the limited warranty with any Alcavi manufactured component please fill out Warranty claim form and upload photos required
A member from our team will contact you if any additional information is needed
Once our team reviews and approves your application we will send you a Bike Flights shipping label
Pack the damaged part/s as directed by our team
Once the bike/parts have been received we will follow up with you to review next steps
To consider
Your safety is our priority. If you feel something is not working properly, please contact a member of our technical team and we will be happy to assist you.
The Limited Warranty can only be claimed if the bicycle was register within 30 days of purchase.
The Limited Warranty applies only for the original owner
The Limited warranty is not valid for Alcavi parts damaged in a crash, misuse, or unproper usage of the bike.
For a bicycle involved in a crash please refer to our Crash replacement program.
The damaged part replacement is subject to approval and will have to be inspected first.
Other component warranty: if you experience any problems with Pirelli, Prolongo and Shimano please contact them as they offer customer support directly.
Warranty subject to availability: In case the damaged part is not available in the same model/color you will be offer a similar
For more information on our 45 day home trial and warranty, please visit our Terms and conditions
*RESTRICTIONS APPLY.
Crash replacement program
We understand some events are unpredictable. We offer a Crash Replacement Program* to the original owner, who purchased the bike within 2 years of the original purchase if the damage of the bike compromises its functionality (esthetical damaged do not qualify). With this program we offer the opportunity to replace the damage Alcavi part/s at a reduced cost.
We reserve the right of approval for the Crash replacement Program until we determine that the cause is unintentional. If we determine the damaged has been caused unreasonably, we reserve the right to suspend the Crash Replacement Program.
For a non-Alcavi part we will forward your claim to the original manufacturer. Alcavi will not incure in shipping or labor costs associated with the Crash Replacement Program.
For more information please read our Terms and Conditions on the Crash Replacement Program section.
To access this program please contact us